TransBarnsley Testimonies
TransBarnsley Testimonies
Mikki's Story
"For a long time I had known that I was different. In the early 80s I kind of had it figured out but in reality, there was nobody at that time to approach. These were the dark days before the internet when telephone boxes existed instead of mobile phones.
"Well, I knew I had a gender issue but society drives you to conform. I had never come across Transgender so I guess it is safe to say I conformed to the society norms. That said, behind closed doors was another issue. Two failed marriages later and I finally came out and to my amazement, I didn't lose any family or friends. It seems most of them had figured it out long before and were waiting for me to make the move.
"I am nine years in transition now and I can honestly say there is nothing better than being allowed to be myself. In lots of ways though, I was still in a safe and privileged place. I owned my own company so who is going to argue with me within that organisation? Covid put an end to the business and I had to get out in the real world.
"I figured I needed a change of direction work wise and wanted to work with people so I was absolutely over the moon to receive an offer of a job with the Trust as a peer support worker. This in turn brought about the opportunity to start a Transgender support group – TransBarnsley. Our aim within TransBarnsley is to help other trans and non-binary folk through this tricky thing we call life. We are also starting to work with families of trans people too which is awesome. If ever anybody wanted to see a commitment by the Trust to stand with Trans folk, this is surely it.
"In addition we are also looking at a co-produced presentation on Trans issues. Let's bust some myths and hopefully make our bit of the world a safer place to be.
"My Trans life is amazing and more so now that I can help others on their journey. That is pride.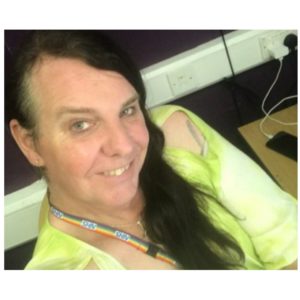 Pippas Story
"Since I started attending the meetings I've noticed that most of the noise or chatter in my head has been silenced"
Life is a rollercoaster with plenty of highs and lows. I've struggled with being Trans since a very young age. Never really coming to terms with that label and how to deal with it. I've feared ridicule and rejection through a lack of understanding. I've felt fear going out and about presenting as me. You name a negative emotion and I've probably experienced it. A lot of these emotions were triggered by real life experiences too.
Over the now 30+ years since I first approached my GP about "girly feelings" not a lot had really changed for me. I'd dabbled in dressing services, I'd got married to (and divorced from) a woman who tolerated my "hobby", I'd met like minded people thanks to the internet and I'd tried to stop being "me" through distraction (other interests). 12 years ago however I met the lady who eventually became my 2nd wife this year. I was open straight away and since that day she has continued to support me, to help me and put up with the bumps in the road that being Trans does bring.
I moved to Barnsley 10 years ago from Morecambe in Lancashire. We had been going to Leeds for evenings out (Leeds First Friday) so moving in with my then girlfriend should have made doing that easier and more regular. That didn't really happen and gradually my only outlets became events like Sparkle in Manchester, very occasional local outings and more recently our Autumnal trips down to London and Brighton. I learned to cherish these opportunities whilst also trying to minimise any frustrations I had about the lack of other opportunities.
Which brings me to 2022 in a very shorthand fashion.
Facebook introduced me to the fledgling TransBarnsley Support Group and the prospect of something local to help me start to understand me. A few swapped e-mails later (and one missed meeting due to my honeymoon) and I'm sitting in a TransBarnsley group presenting as female, full of nerves (as it had been near 6 months since Pippa had "appeared") and talking to like minded people. It was so liberating ! I honestly don't remember much from that first meeting but it certainly became a catalyst for me.
As I've told many people now TransBarnsley has provided me with such a strong anchor, a reason for me to "be" me for at least a couple of hours every week. That in turn has boosted my confidence on how I present myself publicly. That confidence has also allowed me to recently start to share knowledge of "me" with others with amazing results. Being told that someone feels both privileged and proud that I could share my story with them is incredible. The tears that followed from all three of us were very real and heartfelt.
That weekly opportunity to go to somewhere safe cannot be underestimated. Since I started attending the meetings I've noticed that most of the noise or chatter in my head has been silenced. That my internal conflict feels like it is starting to be resolved. That I can finally think straight, make plans and get into a routine so the inconsistent opportunities to be me are becoming normalised and easier. That I am starting to understand about what truly matters to me.
Already TransBarnsley has been a success for me. Given time I hope it will for others too. Seeing some of the younger members start to come out of their shell has been an amazing feeling because having opportunities to get support through groups like TransBarnsley just didn't exist when I was younger. I'm a people person in the workplace, the best part of my job is helping/supporting/developing others so anything I can pay back I will. We are in this together.
I just want to be happy in my skin really, I am Pippa regardless of what clothes I'm wearing, being honest about that….accepting that fully….will take time but thanks to TransBarnsley I finally feel I am making inroads on that journey.
Thank you x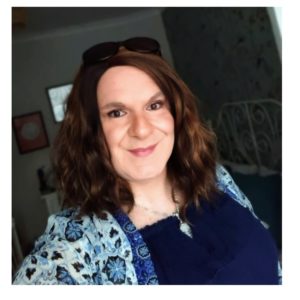 ---
Thank you so much for the launch of the much needed 'Barnsley Transgender & Non-Binary Support Group'
I feel that the group is a 'Lifeline' for my son and maybe others who are struggling to get the support they need and deserve.
It is so obvious that my son is much happier because he has been given the opportunity to meet new people who are on the same journey as himself, to hopefully make new friends to support and to be supported.
It doesn't feel like it is him and myself against the world anymore.
We are so grateful for the time, effort, and commitment you have put into the group.
Thank you!