TransBarnsley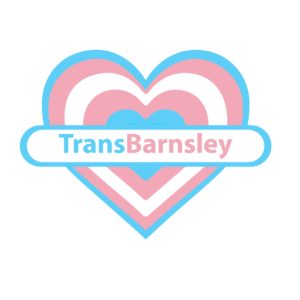 About TransBarnsley
Supporting the transgender and non-binary community and their families in Barnsley.
We run support groups for Trans and Non-Binary people aged 16 and over, in a safe and secure location with changing facilities. This is a non-judgemental, confidential space for you to be yourself and connect with others.
Wherever you are on your gender identity journey you will be welcome. We just ask that you treat others with the same respect as you would wish to receive.
If there are any barriers to you attending, then please get in touch to see how we can help.
Why a trans and non-binary support group?
We recognise that being gender diverse brings with it specific difficulties, from the initial stages of exploring your gender identity to social and medical transition (if you choose). At TransBarnsley we want to offer you a safe space where you are free to be you among likeminded people. Building social support networks are vital to building the protective factors to bring about better mental wellbeing outcomes.
What we can offer…
Here are some of what we have to offer:
Support group
Safe space/location
Changing facilities
Peer support
Guest speakers
Workshops
Mental wellbeing and emotional support
Would you like to attend a group? Is there something else you would like to see happening? Would you like to be involved? Get in touch.
The current TransBarnsley support group for trans and non-binary people aged 16 and over runs on Thursday's 6-8pm. Contact us for the location.
Families & Partners Focus group runs every 4 weeks on a Thursday 6-8pm. Contact us for the dates. This peer support group is for any parents, partners, carers, siblings and other family members of trans and non-binary people.
Note: this group is for anyone 16 years and over who is supporting a trans or non-binary person. The person being supported can be any age.
We are unable to provide…
How to contact us…
Email: TransBarnsley@swyt.nhs.uk
Phone: Call Mikki on 07880 016359 or Ruth on 07551256346
Facebook, Instagram, and Twitter: @TransBarnsley
#TransBarnsley
Read Mikki's Good Work Story Here
Services to get emotional support if you are struggling to cope…
Switchboard LGBT+ Helpline (10am-10pm) – call 0300 330 0630. A safe space for anyone to discuss anything, including sexuality, gender identity, sexual heath, and emotional wellbeing.
Website: https://switchboard.lgbt/
Shout (24hrs) – Text SHOUT to 85258. Free, confidential text messaging support service for anyone who is struggling to cope.
Website: https://giveusashout.org/about-us/about-shout/
Samaritans – Call 116 123 or email jo@samaritans.org. Free, confidential service if you need some to talk to.
Website: https://www.samaritans.org/