Volunteering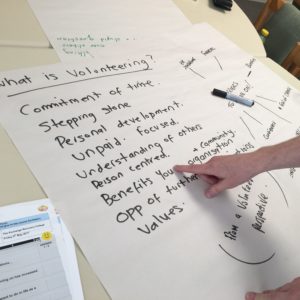 Have you thought about volunteering?
Do you have a practical skill or interest in gardening, crafts, cooking or something else?
Do you have an experience that you would like to educate others about, perhaps in mental or physical ill health?
Do you have a desire to support and encourage others?
Then why not become a volunteer with the Barnsley Recovery and Wellbeing College?
The face of volunteering is changing and The Exchange Recovery College is leading the way in providing new and exciting roles within a health education environment. As a volunteer, you will be part of development pathway, where you will be able to set own goals and work towards an agreed plan.
Volunteering will give you an opportunity to:-
Give something back to an organisation that has impacted either on your life, or others that you know and care about
Make a difference to the lives of others
Feel valued and part of a team.
Gain valuable work experience with a NHS employer.
Gain confidence and improve self-esteem
Being part of a wider inclusive community where everyone has a contribution to offer.
Being a volunteer at the Barnsley Recovery and Wellbeing College is an opportunity to boost your skills.  We would welcome and support anyone who would like to volunteer within the College, providing you with a dedicated volunteer supervisor with a personalised volunteer placement plan to help enable and support you in volunteering.  You will have regular contact with the team, peer support from your fellow volunteers, flexible volunteering hours/commitments to suit you, reimbursement of travel and material expenses whilst carrying out your volunteering duties, all while gaining personal and educational development and training opportunities.
If you would like to know more, please give us a call on 01226 730433, email us at mailto:Barnsley.Recoverycollege@swyt.nhs.uk, or visit the Trust's dedicated volunteering webpage.
If you would like to start your volunteering journey with us now, please fill out the enquiry form (making sure you specify that you are interested in volunteering with the Barnsley Recovery and Wellbeing College), click submit and a member of the team will be in touch with you shortly. We look forward to welcoming you to the team!