End of Term 5 and Volunteers Week
Here we are at the end of our fifth term and its starting to feel like summer has really arrived in Barnsley. The sun has made an appearance and the Exchange Recovery College Grounds are springing into full bloom again. We also have the next phase of government restriction lifts just around the corner ( 21st June) which will hopefully really boost that summer feeling .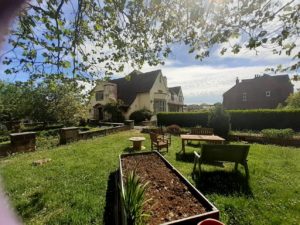 This term we have continued to offer a blended teaching approach which includes both online and face to face courses and workshops. These include Feel the Fear; Exploring Anxiety, Managing Depression, Helpful Habits for Sleep, Introduction to Volunteering and our range of Citizens Workshops. We have delivered live courses and workshops via Microsoft Teams including Accepting Change, Exploring Resilience , For those who Give Too Much: Everyday Stress and Introduction to Scrapbooking. We have also worked alongside our colleges from Wakefield Recovery and Wellbeing college who delivered workshops such as Introduction to Mindfulness and Lifting your spirits; Enhancing inner strength & wellbeing.  For a more information on the courses available this upcoming term, please see our courses section on the website Courses and enrolment | Barnsley Recovery College
Our main priority here at The Exchange Recovery College is to create a safe learning environment for staff, learners and volunteer. Some of the  measurements we have implemented  include:- Meeting learners at the gate on the first session and escorting them to class, increased cleaning rotas, Hand hygiene stations, social distancing markers, a one way systems when entering and exiting the site, reduced class sizes and the use of facemasks where social distancing can't be maintained. We are also running a reduced program of courses so as to keep footfall down to a safe level.
Last week it was officially National Volunteers Week 2021 and to celebrate we held a socially distanced tea party in the Exchange grounds. It was a chance for staff to thank all volunteers for their dedication and efforts over the last year. Volunteers are central to everything that we do here at the college. As well as co-producing and delivering workshops, courses and physical activity programs, volunteers also make up our editorial panel and garden maintenance team. We would like to say a special thankyou to every single volunteer past and present.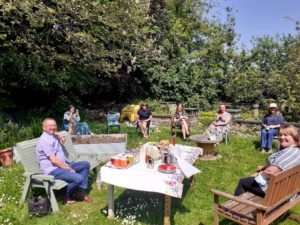 It has been a challenging year for us all but with Summer on the horizon, and a new term around the corner, we are excited for the future. We look forward to meeting new learners and visitors to The Exchange and welcoming returning friends.
Welcome to term 6
Popular articles
Great news Everyone! We have launched our new podcast channel. If you…
---
It is the last week of Term one, and all the staff…
---
Radio Sheffield have interviewed two of our valued volunteers about their experiences…
---